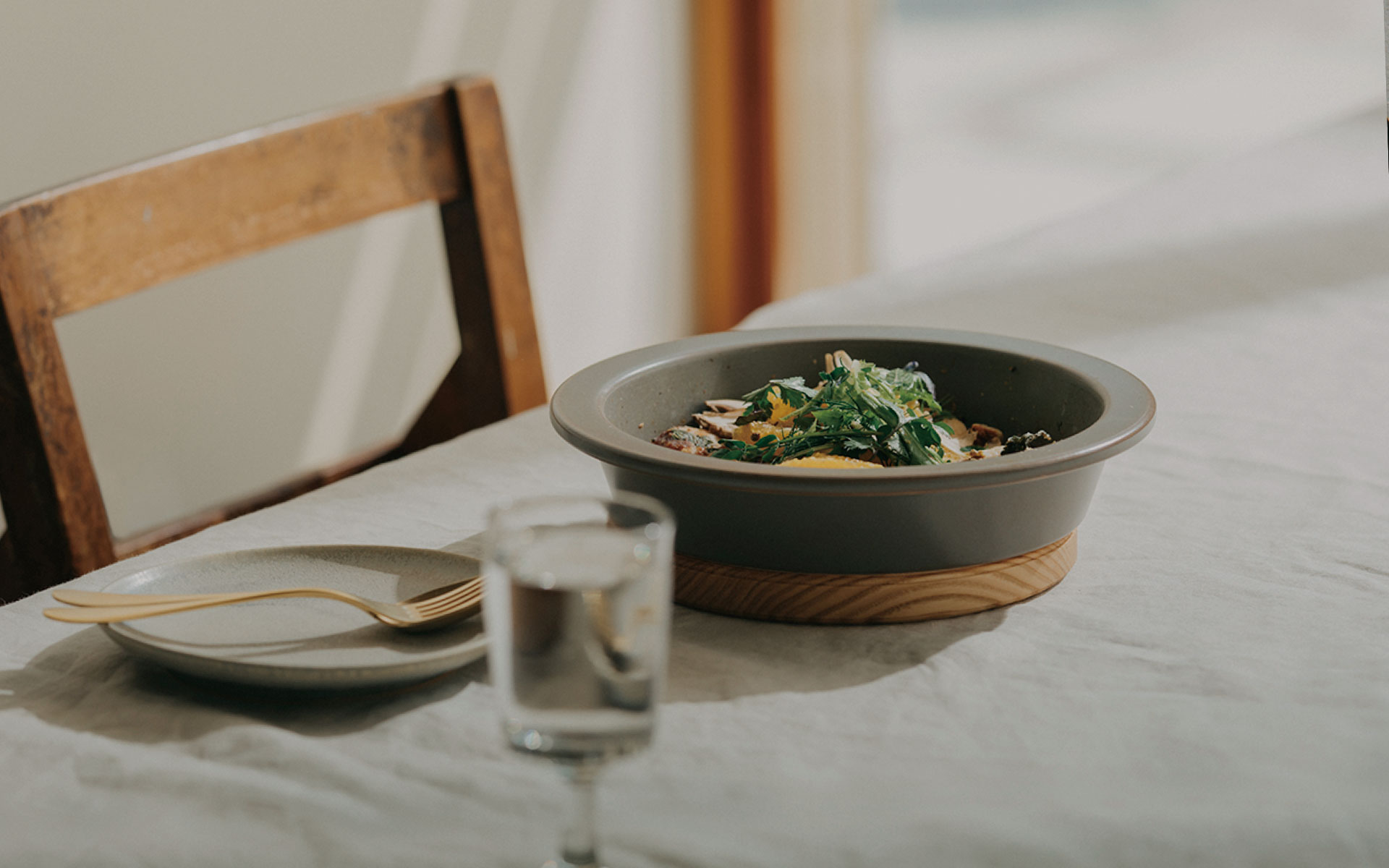 Enjoy the rich tastes and flavors
"From your kitchen, directly to your table."
We believe that it is particularly important to keep changing in response to the needs of the times while learning from the past.
The PETARI series pots are produced by GINPO Co., Ltd., the top manufacturer of donabe casserole pots in Japan, having supported Japanese cooking mainly in winter. Now our next goal is to support the Japanese dining experience in summer.
This was the beginning of the development of a new type of ceramic pots.
feature01
Secrets of shape
Shallow pot developed based on a toban grilling plate

Banko Yaki ceramics, a local industry representing Yokkaichi City in Mie Prefecture,
was designated as one of the traditional crafts of Japan in 1979. In Yokkaichi, there has been a tradition in which food is cooked on a toban ceramic grilling plate. The development of our PETARI products started when we thought of creating a shallow pot, based on a traditional toban grilling plate, with a height slightly higher than such a toban plate. The PETARI shallow pots have a totally new shape that can be created only in Yokkaichi, inheriting the long history of Banko Yaki ceramics.

Airtight design

The excellent forming techniques of our skilled craftsmen ensure that the pot's body and wide rim of the lid are sealed tightly to each other.
This will increase the airtightness inside the pot, preventing the loss of flavor from the cooked food.
You will be surprised how delicious your meals can be.

Stackable lid

Storing pot lids always becomes a tricky task. Dealing with this problem has been a challenge for us to tackle as a long-time manufacturer of pots.
During the development of PETARI products, we repeatedly performed fine adjustment, in millimeters, on the lid's shape.
As a result, we successfully developed a lid that can be stacked into the pot's body when turned upside down for compact storage without lowering the pot's performance while cooking.
feature02
Manufacturing technology for quality and safety
Overwhelming heat resistance

The raw materials for making pots are selected from around the world. In pursuit of an extremely high-grade petalite, which influences the heat-resistance of products, we import petalite from a mine in Zimbabwe, to which we make a request for special ore dressing. Our clay is made by mixing these raw materials in a special proportion. This original clay lays the foundation for our pots, with a performance capable of enduring temperature changes up to 650°C.
This high heat resistance makes our pots useful for camping or outdoor cooking using charcoal fires, when cooking at high temperatures is required and heat control is usually difficult.

Glaze formulation based on years of research

The glazes that define the texture are all original. We are constantly researching carefully selected ores, clays, and other ingredients to find the right balance between functionality required for cooking utensils and natural texture as a vessel.

Lead and cadmium free

The raw materials used by PETARI do not contain any lead or cadmium, which can be harmful to the human body. Furthermore, our products are fired at approximately 1,200°C to ensure that the ingredients do not dissolve to the surface.
feature03
From your kitchen to dining table
Excellent heat storage properties

When compared with enameled cast iron cooking pots and aluminum-alloy pots, donabe casserole pots are most distinguished by their excellent heat storage property. Since the temperature inside donabe pots is hard to change, they have a high level of insulation to prevent foods inside from quickly cooling even after the heat is turned off . Thus, they are suitable for residual-heat cooking.

Microwavable

Unlike traditional donabe pots, the PETARI pots can be put in the oven or microwave with the lid on.
It is not only for reheating. The official PETARI recipes include many cooking ideas using a microwave.

Design with a rim

PETARI shallow pots do not have handles that have traditionally been a part of donabe pots.
Instead, they have a beautiful rim like a piece of tableware. So, you can use them as they are on your dining table.
This small feature provides you enjoyment for your everyday dining experience.
feature04
Nature-derived colors
This color recreates the color of the rugged surface of the Onigajo ("Demon's Castle") rock wall located at the end of Shichiri-mihama Beach, Kumano City, Mie Prefecture.
We pursued a deep black color formed by the accumulation of volcanic ash.

In the Suzuka mountain range situated in northern Mie Prefecture, volcanic materials and terrigenous clastic rocks, such as mudstone, are distributed throughout the region.
Mudstone is believed to have been formed mainly from mud accumulated at the bottom of the sea or lakes.
Fascinated by its calm and mysterious color like the deep sea, we have developed a glaze in a color similar to mudstone.

This glaze has been developed based on the color and texture of igneous rocks found in the Higashi Kishu region, which were formed approximately 15 million years ago by the volcanic activity of a giant caldera volcano. These rocks have different shades of deep beige colors overlapping each other in layers. Because it was exceedingly difficult to reproduce such a complex color, we underwent a process of trial and error.
As a result of continuous efforts, we have finally achieved this sophisticated beige with just a hint of irregularity.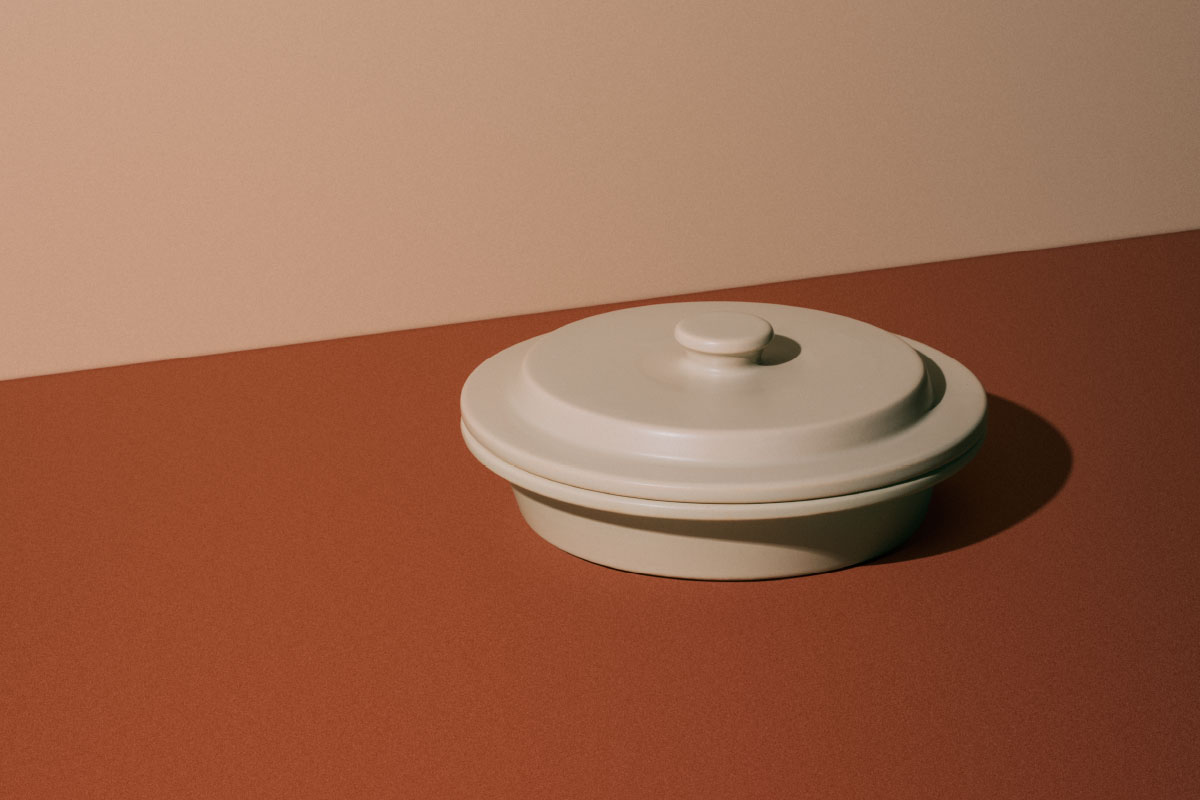 Products
Our products feature a unique material with excellent heat-resistance,
a beautiful shape with a rim just like tableware, and a shallow structure
designed with utmost care to make them ideal for a variety of dishes. They will assist your daily life as a versatile cookware piece that can be used in both
your kitchen and on your dining table.